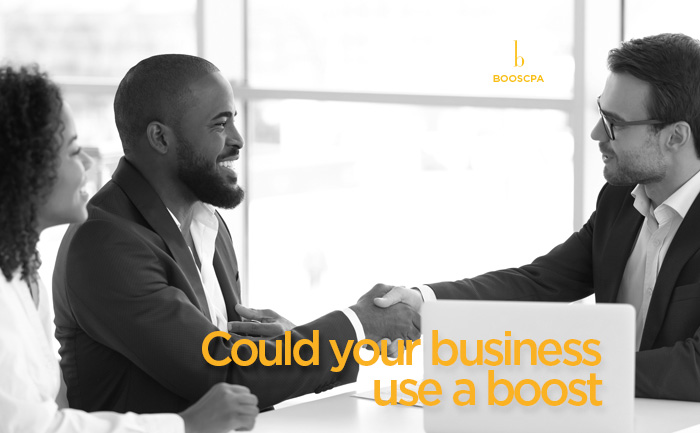 California Rebuilding Fund
Small businesses are the backbones of their communities. They create millions of jobs annually while catering specifically to the communities surrounding them. Many small businesses still need funding to help them weather today's environment and ensure they can retain their employees, pay their rent, and survive. Due to this, the state of California has created the California Rebuilding Fund to support California's small businesses. The experts at Boos can guide you through this process.
The California Rebuilding Fund is a loan program to support California's small businesses—especially those located in economically disadvantaged and historically under-banked areas of the state. Businesses who employed 50 or less full-time equivalent employees (FTEs) and had gross revenues of less than $2.5 million or below in 2019 are eligible to apply.
The loans are flexible, transparent and are designed to help businesses access the capital and advisory services they need to get through these challenging economic times.
Loan Terms:
LOAN AMOUNT: The maximum available loan amount is $100,000 or up to 100% of your business' average monthly revenues for three months prior to the COVID pandemic outbreak (in 2019 or early 2020), whichever is less. The maximum loan amount available under this program is $100,000.
INTEREST RATE: 4.25%
REPAYMENT: 36 months or 60 months (first year interest only)
Example:
An example of how your maximum loan amount is calculated:
To determine your business's average monthly revenue for an estimate of potential loan size, the lender may use the following
:
September 2019 Revenues: $10,000
October 2019 Revenues: $15,000
November 2019 Revenues: $20,000
Based on the above-referenced example, the average revenues for the period is $15,000 so 3-months of average revenues would be $45,000. In this example, the maximum loan size would be $45,000
Business Requirements:
The business must have employed 50 or fewer full-time equivalent (FTE) employees prior to March 2020; please note: any and all affiliates are counted in this total, including businesses with shared ownership;
The business must have had gross revenues of less than $2.5 million in 2019;
The business must have suffered a direct economic hardship as a result of COVID-19 which has materially impacted operations (as evidenced by at least a significant reduction in revenues since January 2020);
The business must have returned to or sustained, for at least one-month, at least 30% of pre-COVID revenues relative to a similar period in 2019
The business must have demonstrated positive net income in 2019 (not including depreciation and amortization expenses);
The business must have been in operation since at least June 30, 2019 and be operating at the time of application;
The main office or headquarters for the business must be in California. The loan must be used to support only a business's California operations
Apply >
https://www.connect2capital.com/p/californiarebuildingfund/
Need Help?
If your business is interested in applying for the California Rebuilding Fund loan program

, BOOS & ASSOCIATES is here to help! To inquire more information or if you would like assistance with an application please email us at
askboos@booscpa.com
.